Class Report
Before the Party: The Business of Event Planning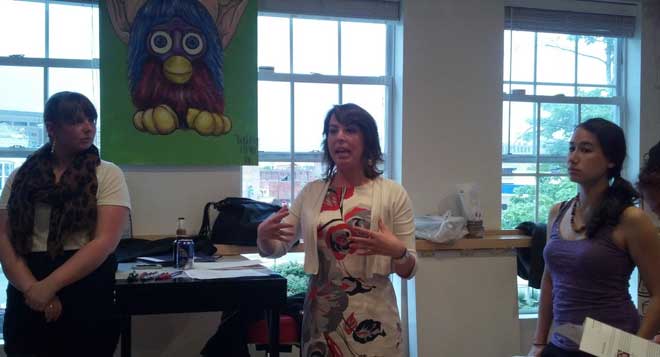 Teachers: Joanna Klatzman, left, and Lindsay (Lindz) Routt, center
Facilitator: Amanda Leslie
What was the weirdest thing you learned?
Amanda: That all "pipe and drape" (the curtains they hang up around rooms to make them a certain color and fancier looking) has to be fire-retardant and if it's not you can hold a lighter up to it and it will smoke. If you have too much pipe and drape at a party and it's not fire-retardant you might have to cancel the party!
What did you learn that you can put into practice immediately?
Amanda: How to approach party planning with the five As: Atmosphere, Arrival, Appetite, Amusement, and Appreciation.
If this class were a TV show, what channel would it be on and why?
Amanda: On MTV and HGTV's love child channel.
What do people tend to wrongly assume about this subject before learning about it?
Lindz/Joanna: There tends to be the assumption that there is a hidden side to things, that you have to know someone to get involved, or you have to have a lot of insider knowledge. What we've found through the business is that there are so many resources available to you as a planner.
What can people read/watch/join for more information on this topic?
Lindz/Joanna: MES, ISES, NACE, Meetup groups like Design Thinking DC — all these help with event planning and getting involved in the industry. For reading, WeddingWire, The Knot, Camille Styles, and The Bitten Word all inspire us.