Session 6: January 2013
Knowledge Commons DC has a temporary home for January 2013, thanks to a partnership with Above the Bike Shop (AtBS) in Adams Morgan. We've converted the space into an experimental learning environment that will serve as a hub for classes, events, and collaborative work. Classes will take place at both AtBS and other D.C. locations.
Study Hall
To accompany our program of January classes, Knowledge Commons DC is partnering with Open Masters and Provisions Library to host a public, month-long Study Hall at AtBS.
Study Hall is for learners of all persuasions looking for a supportive weekday environment in which to research, read, make, organize, and write alongside kindred spirits. We are open between 10 a.m. and 4 p.m. Monday through Friday.
Sign up if you'd like to attend.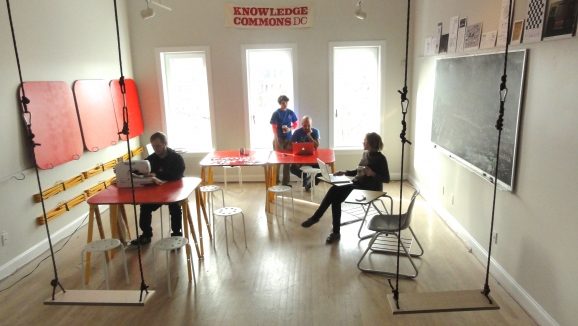 Location
Above the Bike Shop
2501 Champlain St. NW
Washington, DC
Neighborhood: Adams Morgan
Access to this location requires climbing a flight of stairs.
About Provisions Library
Provisions Library explores art and social change through its library collection, research residencies, public projects, and events. The Copy Rights residency (Jan. 24-Feb. 16) will host four fellows — Anne Eliabeth Moore (Chicago), Nate Larson (Baltimore), Greg Bloom (DC), and Tim Schwartz (Los Angeles) — who will explore the current state of intellectual property and the circulation of common information through creative research projects. Provisions' studiolab at KCDC (from Jan. 22-25 and 28-31) will provide a home for creative experiments and projects under the Copyrights theme.
About the Open Masters Program
The Open Master's Program is a self-designed, peer-run graduate school in Washington, D.C.