Autumn Kickoff Party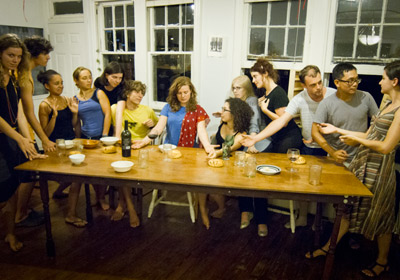 Join Knowledge Commons DC for a casual potluck picnic and experiential experimental art history lesson. While enjoying delicious snacks and getting to know your fellow students, teachers, and organizers, join art historian Elena Goukassian (of Abandoned Buildings Tour fame) and lifelong dresser-upper Lucy Burnett for some live painting reenactments. We'll have a photo booth for documenting your inspired imitations of famous artworks, as suggested by Knowledge Commons students, and we'll introduce you to the context, content and complexities behind some of the world's best known and loved works of art. Please send us your suggestions of artworks at knowledgecommonsdc@gmail.com. (They don't necessarily have to have people in them; we're open to doing crazy stuff with Picasso, Miro, Pollock, etc.) This ain't your average art history lesson.
Bring snacks to nosh on (if you're new to Knowledge Commons you should know that we take snacks very seriously), and flexible reenactment materials (some will be provided). Think toy swords, bedsheets, brightly colored fabric, fruit, wings, flags, wigs, etc., and come ready to pose.
Location
Sheridan Circle
Washington, DC
Neighborhood: Embassy Row
In the middle of Massachusetts Ave.
Past event