Build Your Own Drum for Kids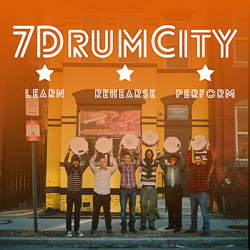 It's time for the Funk Parade, and folks of all ages are invited to come to U Street to make music together! Young, aspiring drummers can get ready at this workshop, led by percussion experts from the nonprofit 7DrumCity in conjunction with the DC Public Library's Funk Parade programming hub: the Intergalactic Intergeneration Station.
Budding musicians will craft their own unique percussion instruments out of ordinary household items and learn basic drumming beats. Then, junior drummers are invited to return to the class site at 2:15 p.m. to learn a large-group drumming pattern and join 7DrumCity's teachers in the parade.
Drum-making supplies will be provided, but participants are welcome to bring additional materials and/or pre-assembled instruments from home. This activity is suitable for children ages 3 and up, with parent or guardian supervision.

Funk Parade is a one-of-a-kind parade, street fair, and music festival celebrating U Street, D.C., and the spirit of funk.
Location
Harrison Recreation Center
1330 V St. NW
Washington, DC 20009
Neighborhood: U Street
Meet inside the recreation center.
Past event