The Island: A Bike Tour of Industrial Sites, Lost Canals, and Neighborhoods in SE/SW
Lost canals? Tiny salt marshes? Modernist apartment blocks and some of the oldest houses in DC? Former intelligence agency HQs? We'll see these all.
Every city has some kind of industrial heart. D.C.'s is better hidden than most, concealed behind the bulk of Union Station and hunkered down near the rivers. We will ride through neighborhoods around Capitol Hill, the Navy Yard, and the Southeast/Southwest Waterfront, seeking out places where people made things, or distribute them, or perhaps make them still. We'll find look at churches and schools, and examine clues to older immigrant neighborhoods.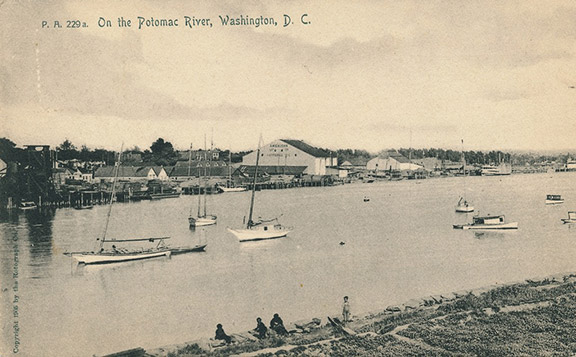 Close to the water, our route passes by soon-to-close power stations, sewage pumping plants, and the city's future pollution control tunnel. Farther up the river lies the Navy Yard, once one of the country's premier gun factories. Along the way, we'll ask what role industry has in the life of a thriving, equitable city, and we'll consider the ways in which our everyday lives are connected to faraway places.
Photo: On the Potomac River, Washington, D.C. The Rotograph Co., c. 1905.
Location
Canal Park
202 M St. SE
Washington, DC
Neighborhood: Navy Yard
Near the Navy Yard Metro station. Use the New Jersey Ave exit.
Past event