Deprogramming and Rethinking Plastic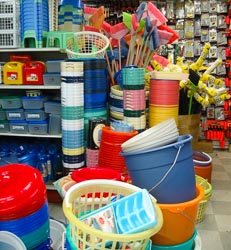 Plastic: It's everywhere, from synthetic fibers in clothing to the gel of our soaps and toothpaste. Plastic use became pervasive in the U.S. in the late 1970s because it was cheap, light, water-resistant, and can be shaped into (almost) anything.
As miraculous as it is, plastic has devastating effects on the health of people and the planet, and it is a major contributor to global warming. Some experts estimate that by 2050, there will be more plastic in our oceans than fish. Can we deprogram ourselves from the convenience of plastic?
This class will start with a discussion on the health effects of plastic. We'll then break into small groups to rethink how to plan events or everyday errands without using plastic, like a kid's birthday party or a week of groceries. We'll finish with a larger group discussion on our ideas and what we learned.
Location
The Green House
Washington, DC 20011
Neighborhood: Petworth
Address will be emailed upon registration.
Past event
To sign up for classes, please log in or create a new account.