Fundamentals of West African Drumming
The djembe is an hourglass-shaped hand drum that features prominently in the musical traditions of the Manding culture of West Africa. In this high-energy workshop, we'll get acquainted with the djembe, find out how to position it properly for playing, learn a series of striking techniques and basic rhythms, and even learn some polyrhythms, which combine multiple simultaneous drumming patterns into a cohesive whole.
We'll also discover the history of each rhythm and learn how the patterns we're playing fit into Manding musical traditions, and leave prepared to join any one of D.C.'s community drum circles with confidence.
This class is open to students aged 12 and older.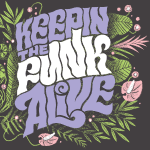 This class is an Academy of Funk program, presented in partnership with the 2019 Funk Parade — coming up on May 11, 2019. Funk Parade is a one-of-a-kind parade, street fair, and music festival celebrating U Street, D.C., and the spirit of funk. Visit www.funkparade.org to view this year's lineup of musical artists, discover more community programming, and find out how you can get involved in keeping the funk alive in D.C.
Location
Hung Tao Choy Mei Leadership Institute
1351 U St. NW
Washington, DC 20009
Neighborhood: U Street
Meet on the second floor.
Past event