KCDC Book Club: Drown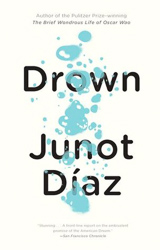 Long before winning a Pulitzer Prize, Junot Diaz developed his voice and writing style through this collection of short stories. "An unsentimental glimpse at life among immigrants from the Dominican Republic," Drown provides a gritty look at immigrant life that remains relevant twenty year later. The collection also introduces the reader to Yunior, who becomes a central character across many of Diaz's later works.
Join us for an open discussion of the short stories, led by a KCDC student who is eager to share this collection with our community. The discussion will cover all of the stories, but feel free to join us even if you're not able to read them all!
Location
Geoff's House
Washington, DC 20009
Neighborhood: Adams Morgan
A second-floor walk-up near Florida Avenue and U Street NW.
Address will be emailed upon registration.
Past event
To sign up for classes, please log in or create a new account.