playbackthetape: VHS Archaeology for Beginners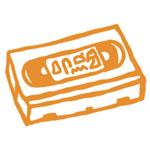 We interrupt this broadcast with a VHS treasure trove. Every tape is a bona fide time capsule awaiting [re]discovery. Introducing playbackthetape — a screening series for archaeologists of the home entertainment system variety.
Tonight we shall watch, reminisce about, and discuss existing excerpts from our vaults. The lighthearted, free-form class will survey tapes bursting with vintage commercials, throwback newsbreaks, local weather warnings, and other clues to past time, place, and culture. Come see stories, then share yours.
Documentation
Read the class report!
Location
Furthermore
52 O Street NW
Washington, DC 20001
Neighborhood: NoMa/Swampoodle
Past event
To sign up for classes, please log in or create a new account.