Queer Book Club: The Argonauts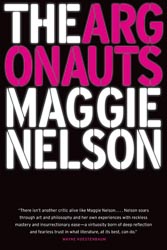 Queer Book Club is a small but enthusiastic community that has been meeting monthly to discuss queer-themed books spanning numerous genres. This month, based on popular demand we'll be rereading The Argonauts by Maggie Nelson:
"A genre-bending memoir, a work of 'autotheory' offering fresh, fierce, and timely thinking about desire, identity, and the limitations and possibilities of love and language. At its center is a romance: the story of the author's relationship with the artist Harry Dodge. This story, which includes Nelson's account of falling in love with Dodge, who is fluidly gendered, as well as her journey to and through a pregnancy, offers a firsthand account of the complexities and joys of (queer) family-making."

This class is presented in partnership with DC Public Library.
Location
Tenley-Friendship Neighborhood Library
4450 Wisconsin Ave. NW
Washington, DC
Neighborhood: Tenleytown
Past event
To sign up for classes, please log in or create a new account.