Queer Book Club: The Black Penguin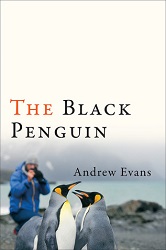 Queer Book Club is a small but enthusiastic community that has been meeting monthly to discuss queer-themed books spanning numerous genres. This month, we'll be reading The Black Penguin by Andrew Evans:
"A devout young boy in rural Ohio, Andrew Evans had his life mapped for him: baptism, mission, Brigham Young University, temple marriage, and children of his own. But as an awkward gay kid, bullied and bored, he escaped into the glossy pages of National Geographic and the wide promise of the world atlas. The Black Penguin is Evans's memoir, travel tale, and love story of his eventual journey to the farthest reaches of the map, a wild yet touching adventure across some of the most astonishing landscapes on Earth."

This class is presented in partnership with DC Public Library.
Location
Watha T. Daniel/Shaw Neighborhood Library
1630 Seventh St. NW
Washington, DC 20001
Neighborhood: Shaw
Past event