Queer Book Club: Dreadnought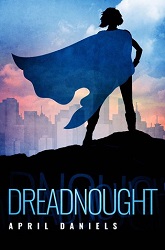 Queer Book Club is a small but enthusiastic community that has been meeting monthly to discuss queer-themed books spanning numerous genres. This month, we'll be reading Dreadnought by April Daniels:
"Danny Tozer has a problem: She just inherited the powers of Dreadnought, the world's greatest superhero. Until Dreadnought fell out of the sky and died right in front of her, Danny was trying to keep people from finding out she's transgender. But before he expired, Dreadnought passed his mantle to her, and those secondhand superpowers transformed Danny's body into what she's always thought it should be. Now there's no hiding that she's a girl."

This class is presented in partnership with DC Public Library.
Location
Petworth Neighborhood Library
4200 Kansas Ave. NW
Washington, DC
Neighborhood: Petworth
Past event