Queer Book Club: Eleanor and Hick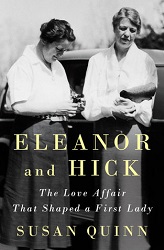 Queer Book Club is a small but enthusiastic community that has been meeting monthly to discuss queer-themed books spanning numerous genres. This month, we'll be reading Eleanor and Hick by Susan Quinn:
"A warm, intimate account of the love between Eleanor Roosevelt and reporter Lorena Hickok — a relationship that, over more than three decades, transformed both women's lives and empowered them to play significant roles in one of the most tumultuous periods in American history."

This class is presented in partnership with DC Public Library.
Location
Southeast Neighborhood Library
403 Seventh St. SE
Washington, DC
Neighborhood: Capitol Hill
Across the street from the Eastern Market Metro
Past event
To sign up for classes, please log in or create a new account.