Queer Book Club: The Gang's All Queer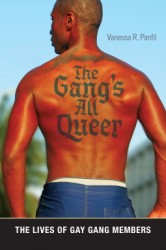 Queer Book Club is a small but enthusiastic community that has been meeting monthly to discuss queer-themed books spanning numerous genres. This month, we'll be reading The Gang's All Queer by Vanessa R. Panfil:
"Many people believe that gangs are made up of violent thugs who are in and out of jail, and who are hyper-masculine and heterosexual. Meet gang members whose gay identities complicate criminology's portrayal and representation of gangs, gang members, and gang life.
The Gang's All Queer draws from interviews with over 50 gay gang-involved young men in Columbus, Ohio, the majority of whom are men of color in their late teens and early twenties, as well as on-the-ground ethnographic fieldwork with men who are in gay, hybrid, and straight gangs."

This class is presented in partnership with DC Public Library.
Location
Cleveland Park Neighborhood Library
3310 Connecticut Ave. NW
Washington, DC 20008
Neighborhood: Cleveland Park
Past event
To sign up for classes, please log in or create a new account.