Queer Book Club: The House of Impossible Beauties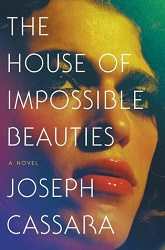 Queer Book Club is a small but enthusiastic community that has been meeting monthly to discuss queer-themed books spanning numerous genres. This month, we'll be reading The House of Impossible Beauties by Joseph Cassara:
"It's 1980 in New York City, and nowhere is the city's glamour and energy better reflected than in the burgeoning Harlem ball scene, where seventeen-year-old Angel first comes into her own. Burned by her traumatic past, Angel is new to the drag world, new to ball culture, and has a yearning inside of her to help create family for those without. When she falls in love with Hector, a beautiful young man who dreams of becoming a professional dancer, the two decide to form the House of Xtravaganza, the first-ever all-Latino house in the Harlem ball circuit."

This class is presented in partnership with DC Public Library.
Location
West End Neighborhood Library
2301 L St. NW
Washington, DC 20037
Neighborhood: West End
The new library that opened in December 2017!
Past event