Queer Book Club: Just Kids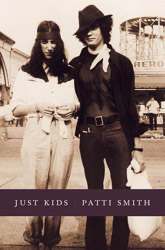 Queer Book Club is a small but enthusiastic community that has been meeting monthly to discuss queer-themed books spanning numerous genres. This month, we'll be reading Just Kids by Patti Smith:
In Just Kids, Patti Smith offers a never-before-seen glimpse of her remarkable relationship with photographer Robert Mapplethorpe in the epochal days of New York City and the Chelsea Hotel in the late 1960s and 1970s.
An honest and moving story of youth and friendship, Smith brings the same unique, lyrical quality to Just Kids as she has to the rest of her formidable body of work — from her influential 1975 album Horses to her visual art and poetry.

This class is presented in partnership with DC Public Library.
Location
Petworth Neighborhood Library
4200 Kansas Ave. NW
Washington, DC
Neighborhood: Petworth
Past event
To sign up for classes, please log in or create a new account.