Queer Book Club: The Long Way to a Small, Angry Planet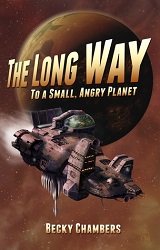 Queer Book Club is a small but enthusiastic community that has been meeting monthly to discuss queer-themed books spanning numerous genres. This month, we'll be reading The Long Way to a Small, Angry Planet by Becky Chambers:
"When Rosemary Harper joins the crew of the Wayfarer, she isn't expecting much. The patched-up ship has seen better days, but it offers her everything she could possible want: a spot to call home, a chance to explore the far-off corners of the galaxy, and some distance from her past. And nothing could be further from what she's known than the crew of the Wayfarer…"

This class is presented in partnership with DC Public Library.
Location
Northeast Neighborhood Library
330 7th St. NE
Washington, DC
Neighborhood: Capitol Hill
Past event
To sign up for classes, please log in or create a new account.