Queer Book Club: No Ashes in the Fire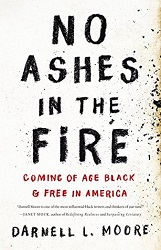 Queer Book Club is a small but enthusiastic community that has been meeting monthly to discuss queer-themed books spanning numerous genres. This month, we'll be reading No Ashes in the Fire by Darnell L. Moore:
"From a leading journalist and activist comes a brave, beautifully wrought survival story of navigating childhood during the height of the AIDS and crack epidemics, searching for intimacy and love as a young gay man, and ultimately finding a calling fighting for justice and liberation in the Black Lives Matter and LGBTQ movements."

This class is presented in partnership with DC Public Library.
Location
Cleveland Park Neighborhood Library
3310 Connecticut Ave. NW
Washington, DC 20008
Neighborhood: Cleveland Park
Past event
To sign up for classes, please log in or create a new account.