Queer Book Club: One Man Guy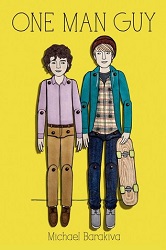 Queer Book Club is a small but enthusiastic community that has been meeting monthly to discuss queer-themed books spanning numerous genres. This month, we'll be reading One Man Guy by Michael Barakiva:
"When Alek's high-achieving, Armenian-American parents send him to summer school, he thinks his summer is ruined. But then he meets Ethan, who opens his world in a series of truly unexpected ways."

This class is presented in partnership with DC Public Library.
Location
West End Neighborhood Library
2301 L St. NW
Washington, DC 20037
Neighborhood: West End
The new library that opened in December 2017!
Past event
To sign up for classes, please log in or create a new account.