Queer Book Club: Passing Strange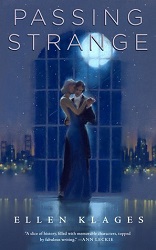 Queer Book Club is a small but enthusiastic community that has been meeting monthly to discuss queer-themed books spanning numerous genres. This month, we'll be reading Passing Strange, a novella by Ellen Klages:
"San Francisco in 1940 is a haven for the unconventional, and six women find their lives tangled with each other's as they discover love and danger on the borders where mystery, science, and art intersect."
DC Reads Bonus Story
In support of the DC Reads program, we'll also discuss "The Other Man", a short story from Viet Thanh Nguyen's The Refugees that the Huffington Post describes as "an engrossing character sketch of a young refugee who's taken in by a gay couple in San Francisco."

This class is presented in partnership with DC Public Library.
Location
Watha T. Daniel/Shaw Neighborhood Library
1630 Seventh St. NW
Washington, DC 20001
Neighborhood: Shaw
Past event
To sign up for classes, please log in or create a new account.