Queer Book Club: The Prince and the Dressmaker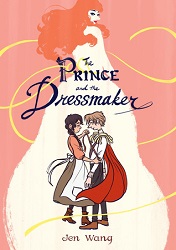 Queer Book Club is a small but enthusiastic community that has been meeting monthly to discuss queer-themed books spanning numerous genres. This month, we'll be reading The Prince and the Dressmaker by Jen Wang:
"Prince Sebastian is looking for a bride — or rather, his parents are looking for one for him. Sebastian is too busy hiding his secret life from everyone. At night he puts on daring dresses and takes Paris by storm as the fabulous Lady Crystallia — the hottest fashion icon in the world capital of fashion!"

This class is presented in partnership with DC Public Library.
Location
Northeast Neighborhood Library
330 7th St. NE
Washington, DC
Neighborhood: Capitol Hill
Past event
To sign up for classes, please log in or create a new account.