Queer Book Club: Pulp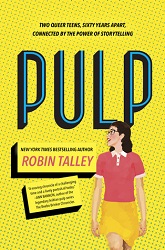 Queer Book Club is a small but enthusiastic community that has been meeting monthly to discuss queer-themed books spanning numerous genres. This month, we'll be reading Pulp by Robin Talley:
"In 1955, Janet Jones keeps the love she shares with her best friend Marie a secret. It's not easy being gay in Washington, DC, in the age of McCarthyism, but when she discovers a series of books about women falling in love with other women, it awakens something in Janet. As she juggles a romance she must keep hidden and a newfound ambition to write and publish her own story, she risks exposing herself — and Marie — to a danger all too real.
Sixty-two years later, Abby Zimet can't stop thinking about her senior project and its subject: classic 1950s lesbian pulp fiction. Between the pages of her favorite book, the stresses of Abby's own life are lost to the fictional hopes, desires, and tragedies of the characters she's reading about. She feels especially connected to one author and becomes determined to track her down and discover her true identity."

This class is presented in partnership with DC Public Library.
Location
Watha T. Daniel/Shaw Neighborhood Library
1630 Seventh St. NW
Washington, DC 20001
Neighborhood: Shaw
Past event