Queer Book Club: Speak No Evil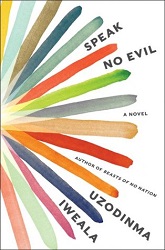 Queer Book Club is a small but enthusiastic community that has been meeting monthly to discuss queer-themed books spanning numerous genres. This month, we'll be reading Speak No Evil by Uzodinma Iweala:
Raised by attentive parents in Washington, D.C., Niru is a top student and a track star at his prestigious private high school. Bound for Harvard in the fall, his prospects are bright. But Niru has a painful secret: he is queer — an abominable sin to his conservative Nigerian parents. No one knows except Meredith, his best friend. Coping with troubles of her own, Meredith finds that she has little left emotionally to offer him as the two friends struggle to reconcile their desires against the expectations and institutions that seek to define them.

This class is presented in partnership with DC Public Library.
Location
Northeast Neighborhood Library
330 7th St. NE
Washington, DC
Neighborhood: Capitol Hill
Past event
To sign up for classes, please log in or create a new account.