Queer Book Club: Surpassing Certainty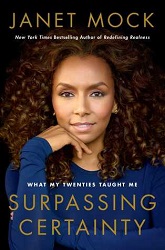 Queer Book Club is a small but enthusiastic community that has been meeting monthly to discuss queer-themed books spanning numerous genres. This month, we'll be reading Surpassing Certainty: What My Twenties Taught Me by Janet Mock:
"The journey begins a few months before her twentieth birthday. Janet Mock is adjusting to her days as a first-generation college student at the University of Hawaii and her nights as a dancer at a strip club. Finally content in her body, she vacillates between flaunting and concealing herself as she navigates dating and disclosure, sex and intimacy, and most important, letting herself be truly seen.
Despite her disadvantages, fueled by her dreams and inimitable drive, Janet makes her way through New York City while holding her truth close. She builds a career in the highly competitive world of magazine publishing — within the unique context of being trans, a woman, and a person of color."

This class is presented in partnership with DC Public Library.
Location
Northeast Neighborhood Library
330 7th St. NE
Washington, DC
Neighborhood: Capitol Hill
Past event