Queer Book Club: Tomorrow Will Be Different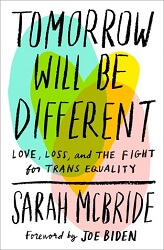 Queer Book Club is a small but enthusiastic community that has been meeting monthly to discuss queer-themed books spanning numerous genres. This month, we'll be reading Tomorrow Will Be Different by Sarah McBride:
"Sarah McBride is on a mission to fight for transgender rights around the world. But before she was a prominent activist, and before she became the first transgender person to speak at the Democratic National Convention in 2016, she was a teenager struggling with her identity.
Tomorrow Will Be Different highlights Sarah's work as an activist and the key issues at the forefront of the fight for trans equality, providing a call-to-arms and empowering look at the road ahead. The fight for equality and freedom has only just begun."

This class is presented in partnership with DC Public Library.
Location
West End Neighborhood Library
2301 L St. NW
Washington, DC 20037
Neighborhood: West End
The new library that opened in December 2017!
Past event