Queer Book Club: Weetzie Bat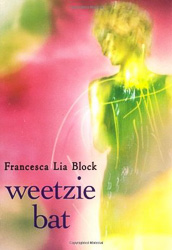 Queer Book Club is a small but enthusiastic community that has been meeting monthly to discuss queer-themed books spanning numerous genres. This month, we'll be reading Weetzie Bat by Francesca Lia Block:
"This could be a book about cheap cheese and bean burritos, slinkster dogs, lanky lizards, and rubber chickens. Or strawberry sundaes with marshmallow toppings, surfing, stage-diving, and sleeping on the beach. It could even be a book about magic. But what it's definitely about is Weetzie Bat, her best friend Dirk, and their search across L.A. for the most dangerous angel of all … true love."

This class is presented in partnership with DC Public Library.
Location
Lamond-Riggs Neighborhood Library
5401 South Dakota Ave. NE
Washington, DC 20011
Neighborhood: Fort Totten
Accessible via Fort Totten Metro Station on the Red, Green, and Yellow lines
Past event