Record Collecting 101: Vinyl Happy Hour with Som Records

Want to improve your record-hunting game and grow your collection? Join Som Records owner and vinyl DJ Neal Becton (aka DJ Neville C) for a session on all things vinyl — record quality, genre expansion, collection curation, and more. There'll be a talk, a Q&A, adult beverages, and the opportunity to shop for records at a 15 percent discount with the advice of a true vinyl expert. No purchase is required in order to attend; please come to learn, talk shop, and mingle!
This class is for students 21 and older. We will check IDs at the door.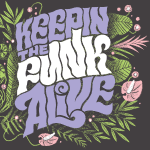 This class is an Academy of Funk program, presented in partnership with the 2019 Funk Parade — coming up on May 11, 2019. Funk Parade is a one-of-a-kind parade, street fair, and music festival celebrating U Street, D.C., and the spirit of funk. Visit www.funkparade.org to view this year's lineup of musical artists, discover more community programming, and find out how you can get involved in keeping the funk alive in D.C.
Location
Som Records
1843 14th St. NW
Basement
Washington, DC 20009
Neighborhood: U Street
Past event