Canceled
Shakers and Chekeres: A Hands-and-Ears-On Workshop
Make and decorate your own water bottle shaker while taking a musical journey through Latin America and learning about the role of this fundamental percussion instrument. From the maracatu rhythms of the Northeastern coast of Brazil to the iconic Cuban rumba, shakers and chekerés add an important element to the layered percussive complexity of these musical styles.
We'll explore these genres though a playlist including tracks from the Smithsonian Folkways record label, as well as some musical highlights from the upcoming Smithsonian Folklife Festival as part of the Smithsonian Year of Music initiative.
Please bring an empty water bottle or potato chip can so you can make your own shaker to take home — and to bring to the D.C. Funk Parade on May 11! Children and adults of all ages are welcome in this class.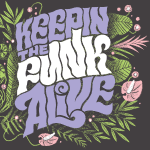 This class is an Academy of Funk program, presented in partnership with the 2019 Funk Parade — coming up on May 11, 2019. Funk Parade is a one-of-a-kind parade, street fair, and music festival celebrating U Street, D.C., and the spirit of funk. Visit www.funkparade.org to view this year's lineup of musical artists, discover more community programming, and find out how you can get involved in keeping the funk alive in D.C.
Location
7DrumCity
1506 North Capitol St. NW
Washington, DC 20002
This class is canceled