To Your Health and Happiness: Intro to Kombucha Brewing
While a recent addition to the Western drink aisle, Kombucha dates back 2,000 years to ancient China, where it was regularly consumed to remedy inflammatory ailments such as arthritis and thought to ward off cancer. In this class, you'll learn a bit of the history and potential health-promoting properties of this fermented, fizzy tea drink, brewed using a SCOBY (symbiotic culture of bacteria and yeast). You'll also learn the basics of home brewing, and how you can experiment with different ingredients to achieve different flavor profiles.
We'll finish with a tasting of different kombucha flavors from local brand Owluma Yerba Mate Sparkling Kombucha, who handcrafts their kombucha in small batches using only raw and organic ingredients.
Online registration is not required, but if you register in advance you will receive a SCOBY for home brewing. Please bring a sealable plastic container to escort it home.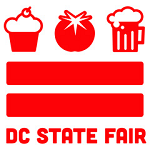 This class is presented in partnership with the DC State Fair. No online registration is required; just show up!
Location
DC State Fair 2019 — Education Tent
2700 Martin Luther King Jr. Ave. SE
Washington, DC 20032
Neighborhood: Congress Heights
Past event
To sign up for classes, please log in or create a new account.