Teacher Feature
Neal Fersko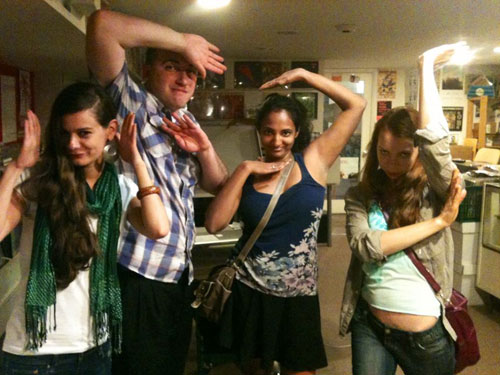 Neal Fersko, second from left, and students at "A People's History of Madonna."

Seven-time KCDC instructor Neal Fersko embodies KCDC's motto of a free school taught by anyone for anyone. Though he had no teaching experience prior to joining KCDC, he didn't let that stop him: "I always had it in my head that I wanted to teach."
An avid reader and concert enthusiast, Neal's classes tap into his deep knowledge of popular music. His courses have run the gamut — from an overview of the D.C. music scene, to "Seven Lessons We Learned From Frank Sinatra," to one he calls "a real thrill," "A People's History of Madonna" — and he loves sharing his interests with KCDC students.
Neal endeavors to leave his students with a new perspective after each class he teaches. "I've found that people have a very strong emotional history with music," he muses. "They know what they like, they harbor strong feelings about it."
By whittling down broad themes to sharply focused classes and compiling mounds of research, Neal brings new light to familiar topics. "It's sensitive to get students to look at something they have a lot of affection for a little more critically," he admits. "When you teach, you have to confront your assumptions and those of your students." His favorite part of teaching? "Finding something obscure in my research and having the opportunity to present it to my students," he says. "That's a great feeling."
Help support the thinkers, doers, and tinkerers like Neal that power KCDC. Send a donation or consider giving your time and talents.
---