Drop-In Classes on the Education Stage
We'll be hosting a series of classes and workshops on the DC State Fair's Education Stage. You're free to drop in—no need to preregister, unless you would like to take home a SCOBY from the kombucha class.
For more about the fair, see the DC State Fair website, especially the page with directions.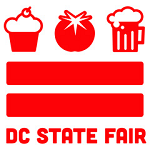 This class is presented in partnership with the DC State Fair. No online registration is required; just show up!
Location
DC State Fair 2019 — Education Tent
2700 Martin Luther King Jr. Ave. SE
Washington, DC 20032
Neighborhood: Congress Heights
Past event